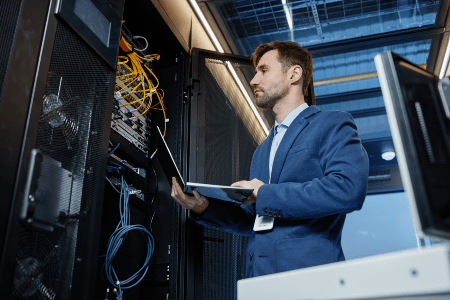 Stop worrying
about your network!
When something goes wrong with your computers or network, inevitably everything grinds to a halt. Entrust your technology to NCS and we will help ensure systems run smoothly with minimal downtime.
Network Support from NCS gives you technology performance you can rely on all for a more predictable cost.  That means you get more value from the technology you've already invested in, while you actually reduce the expense of IT issues and the ensuing downtime.
Experience Uninterrupted Operations with NCS Network Support
Say goodbye to sleepless nights and network-related stress. At NCS, we understand the frustration and disruption that occur when your technology hits a roadblock. That's why we're here to transform your worries into unwavering confidence. Our Network Support service takes the reins, ensuring your systems run seamlessly with minimal downtime.
Empower Your Business with Reliable Technology Performance
When technology falters, your entire operation grinds to a halt. But with NCS by your side, you'll never have to fret about IT glitches again. Our Network Support provides a robust performance guarantee, delivering technology that you can trust. Experience the power of seamless operations, all while enjoying a more predictable cost structure.
Maximize Your Technology Investment, Minimize IT Issues
Your existing technology investments deserve to shine. With NCS Network Support, you unlock the full potential of your tech infrastructure. Our dedicated team ensures that your systems operate optimally, preventing potential issues from escalating into costly disruptions. By nipping problems in the bud, we empower you to make the most out of your technology without downtime hiccups.
Your A-Team: Ready to Tackle Any Challenge
With NCS at the helm, you have a dedicated A-Team of technology experts on standby. Rest easy knowing that your technology is in capable hands, ready to address any obstacle that comes your way. From complex challenges to routine maintenance, we're here to ensure your systems run smoothly, so you can focus on what truly matters – growing your business.
Embrace Peace of Mind: Be Proactive, Not Reactive
Why wait for issues to cripple your operations? NCS Network Support takes a proactive stance, identifying and resolving issues before they impact your business. This forward-thinking approach ensures that your operations remain uninterrupted, allowing you to steer clear of costly downtime and productivity losses.
Rapid Recovery, Uninterrupted Operations
Downtime is the enemy of progress, but with NCS, it becomes a thing of the past. Our Network Support offers rapid, responsive, and remote services that get you back on track swiftly. No more waiting around for assistance – we're here to restore your operations promptly and efficiently.
Transparency in Budgeting: Trust in a Predictable Future
Financial planning becomes effortless when you partner with NCS. Say goodbye to budgetary surprises and unexpected expenses. Our Network Support enables you to predict and control costs, all from a single, trustworthy source. With NCS, you're not just getting technical expertise; you're securing a partner who values your peace of mind as much as you do.
Let NCS Network Support be your beacon of reliability, guiding your business through the digital landscape. Experience uninterrupted operations, timely responses, and budgetary predictability. It's time to leave behind IT worries and embrace the future with confidence. Your technology's success story starts with NCS.
You can run your business worry free.
Request a Call Back
We will have one of our qualified technicians reach out and discuss modern technology solutions to improve your everyday business.